Image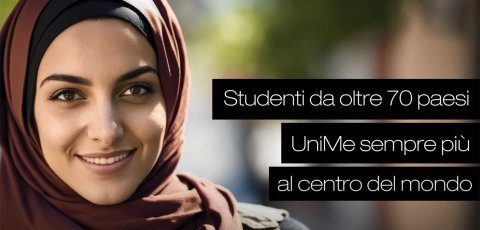 Paragrafo
Following the publication by the MUR of the national ranking of EU candidates
'assigned' or 'booked' at the University of Messina (UniME) will be able to enrol through the online procedure, by connecting to the link: https://unime.esse3.cineca.it, starting from September 5, 2023 until
September 8, 2023, 11.59 pm CET.
The registration process must be completed exclusively online in its entirety.
After this deadline, the online procedure will be deactivated and those who have not completed the enrolment will be considered as renouncers.
REGISTRATION PROCEDURE FOR CANDIDATES ENROLLING FOR THE FIRST TIME AT THE UNIVERSITY OF MESSINA:
All candidates assigned or booked who intend to enrol at UniME must first 
log in (if applicable, with their SPID credentials) on https://unime.esse3.cineca.it and register on the University portal. After the registration, it will be necessary to click on the menu at the top right on "segreteria" / 'secretariat' and then on "concorsi di ammissione" / 'admission competitions' and register for the competition of your interest called:
A.A. 2023-2024 - Candidati UE e NON UE residenti in Italia - Magistrali in Medicina e Chirurgia e in Odontoiatria e Protesi Dentaria

or

A.A. 2023-2024 - Candidati UE e NON UE residenti in Italia - Magistrale in Medicina Veterinaria
Only after these fulfilments, the aforementioned candidates will be able to proceed with online enrolment following the instructions given above no later than September 8, 2023, 11.59 pm CET, and mandatorily with the payment of the registration fee of € 156.00 to be paid by the deadline indicated in this notice, regardless of the due date indicated on Esse3.
APPLICATION PROCEDURE FOR CANDIDATES ALREADY ENROLLED AT THE UNIVERSITY OF MESSINA:
Assigned/booked candidates who are already enrolled for the academic year 2022/2023 in another Degree Course at UniME are required to renew their enrolment for the academic year 2023/2024 in the Degree Course in which they are currently enrolled and then make a 'change of course' (passaggio di corso) by sending an official request to: protocollo@unime.it (cc the relevant Student Secretariats of both Study Courses), no later than September 8, 2023, 11.59 pm CET indicating in the object "PASSAGGIO DI CORSO CDS A NUMERO PROGRAMMATO NAZIONALE". Within the next day following the request, a fee of 26 euros will be charged to be paid by the given deadline.
NON-EU CANDIDATES RESIDING ABROAD who have taken the entrance test at UniME and have been admitted (position visible in the ranking list published in the ESSE3 reserved area) must register by clicking on "segreteria"/'secretariat'  and then "immatricolazione"/'enrolment' (registration for any "concorso"/'competition' is not required). 
Candidates who are 'not admitted' may be called upon to enrol in subsequent scrollings.